---
Revision as of 04:14, 25 November 2013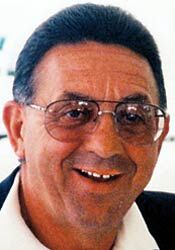 Adolfo Bruno (1945 – November 23, 2003), also known as "Big Al", was a Massachusetts mobster with the Genovese crime family who ran an organized crime operation in Springfield, Massachusetts. Bruno was born in 1945 in the town of Bracigliano, Italy, he moved the america sometime in his late teens.
Criminal career
In 1987, Bruno was sentenced to five years in federal prison by Judge Frank Freedman for gaming offenses in Albany, New York. Bruno's codefendants included Mario Fiore, Anthony "Turk" Scibelli, Ricky S. Songini, Felix Tranghese, and Albert "Baba" Scibelli.
In 1991, Bruno was acquitted of attempted murder in a gang-related shooting in Agawam, Massachusetts. Prosecutors claimed that Bruno and co-defendant John J."Jake" Nettis shot convicted bookmaker Joseph Maruca in a barn owned by Bruno's brother Frank. State prosecutors used reformed Scarfo crime family hitman Phil Leonetti as a government witness. Nettis was convicted and received a nine to ten year state prison sentence.
In 1993, Vito Ricciardi, a Springfield barber, shot at Bruno twice outside the Our Lady of Mount Carmel Society social club in Springfield. However Bruno was supposedly wearing a bulletproof vest and survived the shooting. Ricciardi later said that he shot Bruno because he been had assaulted over an unpaid debt. In 1996, Bruno and Francesco J."Skyball" Scibelli were sentenced to 15 months in prison for illegal gambling.
Bruno murder
On November 23, 2003, Bruno and Frank Depergola were approached by a man as they entered their vehicle outside Our Lady of Mount Carmel club. The man called Bruno by name and when Bruno turned to address him, the man shot Bruno six times in the head and groin. Bruno was later pronounced dead at Baystate Medical Center in Springfield.
On November 17, 2008, Frank Roche pleaded guilty to the Bruno murder in federal court. Roche testified to a federal grand jury that Bruno's crew had paid him $10,000 to murder their boss. According to Roche, Genovese leaders and Bruno's crew wanted to eliminate him because he was not earning enough money for the family. Several high-ranking mobsters in New York were also misled to believe that Bruno was a government informant. Roche also informed law enforcement of plots to kill rival crime figures Joe "Big Joe" Manzi and convicted bookmaker Louie "the Shoe" Santos.
As of February 23, 2010, several small time criminals Fotios A. "Freddy" Geas, Anthony J. Arillotta, and Brandon D. Croteau have been charged with first degree murder in Bruno's death. Arillotta received permission from high-ranking organized crime figures within the Genovese crime family to have Bruno killed. The investigation is ongoing.