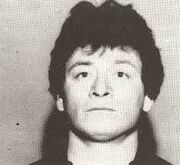 Albert "Albie the Falcon" Vena (Born 1949) is a capo in the Chicago Outfit.
Background
Vena is dubbed by some in the Illinois media and sources on the street as, "the most dangerous and feared man in Chicago today".
Known for his small size and big temper, Albie the Falcon is alleged to have assumed command of the Chicago mob's Westside-Grand Ave. crew almost exactly a decade ago in April 2005 upon his predecessor, mentor and syndicate consigliere Joseph Lombardo getting indicted, going on the run and then eventually being convicted in the epic Family Secrets case.
Criminal Career
In the early 1970s Vena took his first major arrest in the underworld for a vicious home invasion, assault, extortion and kidnapping as a 24-year old racketeer.
In 1973, Vena and an associate named Tommy Conway were convicted on six felony counts stemming from Vena helping Linda Narbona, a stripper girlfriend of his, recover $35,000 in cash from her Floridian ex-fiancé.
In the 1990s, he beat a murder rap, being acquitted at trial for the November 1992 Chicago gangland slaying of Sam Taglia, an Outfit associate and drug dealer. Taglia, last seen alive leaving his home with Vena, had raged out of control with addiction and disobedience and was discovered in the trunk of his car in Melrose Park, shot twice in the back of the head, his throat slit ear-to-ear. As Cook County police converged on him outside his suburban residence to arrest him for Taglia's killing, Vena tried to run over the arresting cops with his car.
Vena's name surfaced in the highly-publicized 2014 attempted murder and kidnapping trial of cop-turned-gangster Steve Mandell – FBI agents testified to Mandell unsuccessfully lobbying Vena's permission to kill a rival and U.S. Prosecutors showed the jury surveillance photos of Mandell lunching with Vena and other Illinois wiseguys.
People Killed by Albert Vena
1). Sam Taglia/ 1992/ mob associate/ Killed because he was addicted to drugs and was becoming out of control.
References
http://gangsterreport.com/chi-outfit-capo-albie-vena-made-a-splash-into-mob-affairs-in-1973/