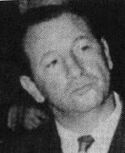 Alfred "The Owl" Polizzi (March 15, 1900 - 1994) was a powerful and influential Cleveland, Ohio mobster who helped establish criminal syndicate operations in Northeast Ohio.
Biography
Born in Siculiana, Sicily, Polizzi immigrated to the United States with his family the same year. During the 1920s and 30s, Polizzi worked with his brother Joseph Polizzi, Anthony Milano, and Moe Dalitz. He married Philomena Valentino and had three children: Joanne, Raymond, and Nicholas. His arrest record would eventually include robbery, violations of the Volsted Act, income tax evasion, and suspicion of murder
By 1935, Polizzi ruled the Cleveland rackets. In 1944, Polizzi was convicted of tax evasion. Around that time, he moved to Coral Gables, Florida . At one point, US Senate investigators characterized Polizzi as "…one of the most influential members of the underworld of the United States". By the 1970's, his influence reportedly extended from Ohio to Central Florida and Southern California during Peter Milano's leadership of the Los Angeles crime family. Polizzi ran illegal gambling and narcotics distribution rackets in Florida. He also owned a construction company in Coral Gables.
Alfred Polizzi died in 1994.
Community content is available under
CC-BY-SA
unless otherwise noted.