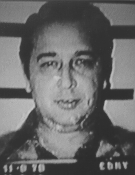 Alphonse Persico (born December 5, 1929 – died 1989) known as "Allie Boy", was a former acting boss of the Colombo crime family. He is not to be confused with his nephew of the same name (Alphonse Persico), who was also a Colombo family acting boss in the 1980s.
Biography
Persico was born in 1929 and was the brother of Theodore Persico, Sr. and Carmine "Junior" Persico. In his early years Persico served a ten year sentence for murder. He was known to be tough and struck fear into many.
He operated a crew in Brooklyn, New York, out of the Diplomat Social Club. His power and standing within the crime family rose as his brother Carmine ascended to become boss of the family and served as his brother' consigliere from 1973–1977 and later underboss from 1977–1981.
In 1981, Carmine Persico pleaded guilty to a conspiracy charge of attempting to bribe an Internal Revenue Service special agent from 1977 through 1978 while in federal custody. The evidence included a recording of Persico offering the agent $250,000 in exchange for getting Persico an early release from prison, he was sentenced to five years in federal prison. After his brothers imprisonment Allie Boy was once more promoted to the rank of acting boss in the same year.
In 1982 Allie Boy was indicted for racketeering and was sentenced to twelve years in prison. He fled, going on the lam in Boston and was later apprehended. He died in prison in 1989 of cancer.