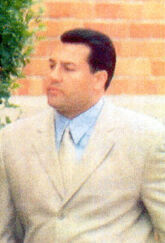 Andrew "Andy Campo" Campos (born 1968) is a New York mobster and reputed capo in the gambino crime family.
Not much is known about his early life he was born in 1968 in New York City and joined the gambino crime family in the early 1990's.
Andrew Campos is a enforcer to the Gambino Family and is a made guy in the family. Because his name sounds Greek law enforcement were confused when they first researched his wereabouts and found out he was of Italian descent. In 1986, as a senior at Mount St. Michael Academy, he was a quarterback for the football team. There he met then defensive back Sean Combs, aka P. Diddy. Combs is a well known rapper, owner of Bad Boy Records and one of the richest hiphop stars. Combs himself has been involved in shootings and was part of the east-west coast 'war' in the 1990's.
After there highschool days they both chose their way of living, both becoming very rich out of it. Combs went to intertainmant (now earns +/- $300 million a year) and Campos to the Mafia, where he was most involved in one of the largest consumer fraud in American history with Salvatore Locascio, one that cost unwary consumers $750 million from related schemes involving phone sex and internet porn. After all these years Combs and Campos stay friends. Sources claim that fellow mobsters of Campos have attainted recording sessions of Combs. In 2004 Campos was indicted in a "telephone cramming" scheme that grossed to $600.000 a day. He was sentenced to 27 months & had to pay $300.000.