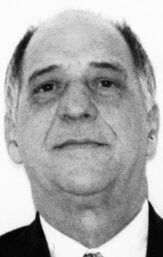 Andrew Russo (Born 1935), known as "Mush", "Mushy" and "Andy" is a powerful and longtime member of the Colombo crime family. He is the current street boss for the Colombo crime family.
Criminal career
Russo is a cousin of Colombo family boss Carmine Persico and first rose to prominence in the family when he was promoted to acting underboss from 1973–1975.
In November 1986, Russo was sentenced to 14 years, he was released on July 29, 1994 under special parole conditions, upon his release he was named street boss when Alphonse Persico (Carmine's son), was named acting boss.
In August 1999, Russo was convicted of jury tampering and sentenced to 57 months, he was also sentenced to 123 months for both parole violation and his involvement in a racketeering case of a Long Island carting company.
In 2009 the Colombo family was being run by Ralph DeLeo, but he was soon imprisoned and Russo, once again took control of the family in March 2010 after his parole period expired, becoming street boss.
On January 20, 2011, Russo, acting underboss Benjamin Castellazzo, consigliere Richard Fusco, and others were charged with murder, narcotics trafficking, and labor racketeering. In September 2011, Castellazzo and Fusco pleaded guilty to reduced charges.
On March 21, 2013, the 78 year old Russo was sentenced to thirty three months for racketeering. He was held at the Brooklyn Metropolitan Detention Center for a time but, according to the Federal Bureau of Prisons, he was released on June 13, 2013.