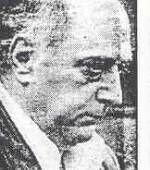 Angelo Joseph Amico, Sr. (born December 24,1931- died March 21, 2011) was a high ranking member of the Rochester crime family and one time Acting boss.
Biography
Angelo Amico was born in Rochester, NY, youngest son of Pasquale Amico, one of the original leaders of the Rochester Crime Family in the 1930's. He went on to become a Capo in the Rochester Crime Family and became Acting Boss of the family in 1984, when mob boss Samuel Russotti was arrested and sent to prison. He served as Acting Boss for Russotti until around 1989. His brothers Michael and Salvatore (Sammy) were also alleged members of the Rochester family. During his tenure as Acting Boss, with so many of the members already in prison, he successfully sustained what was left of the Rochester Family until his arrest in 1987. Amico was charged with RICO and tax evasion. He pleaded guilty to the charges and was sentenced to 14 years in prison, in October of 1988. He was granted release on parole after serving five years of his sentence in 1993, the same year in which Russotti died in federal prison. By the time of his release, the Rochester Crime Family had dwindled, to practically non-existent. Amico passed away on March 21, 2011, after a losing battle with cancer.
Community content is available under
CC-BY-SA
unless otherwise noted.