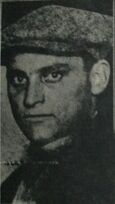 Angelo Genna (born around 1898- died May 27, 1925) was a violent Chicago-based Sicilian mobster during Prohibition and boss of the Genna crime family.
Biography
Angelo arrived from Marsala, Sicily in August of 1914, to join his brother Peter Genna and others who now lived in Chicago. Angelo's name first appeared in Chicago newspapers as early as March 8, 1921, when he was implicated in the murder of Paolo Labriola.
Labriola was allegedly killed after tensions in the 19th ward ran high between Anthony D'Andrea and Johnny Powers during election day. Angelo was suspected of killing Labriola as well as Harry Raimondi in 1921, two supporters of Johnny Powers who won the elections. 'Bloody' Angelo was arrested and tried for the murder of Labriola. He was defended by a lawyer who happened to be a friend of D'Andrea's. In 1922, Angelo was again prosecuted for the murder of Paul Notti, who identified Genna as his assailant as he lied on his deathbed (It is believed that Genna killed Notte in revenge for his friend Nicola Maggio's murder). In both cases Angelo walked away as a free man. However, in November 1922, Genna was again arrested and this time convicted and sent to prison for threatening a 15 year old girl who was set to testify against one of his gangs members for white slavery. Angelo served out his term at Leavenworth prison.
Genna and his brothers also dealt in racketeering, extortion and illegal gambling in addition to bootlegging and murder.
On January 10, 1925, Angelo married Lucille Spingola. They had a huge wedding ceremony and reception with hundreds of guests. Angelo also briefly became the President of the Unione Siciliana after the death of Mike Merlo.
Death
The Genna crime family's downfall came after they murdered North Side Gang leader Dean O'Banion in 1924 over a bootlegging territory dispute. On May 25, 1925, George "Bugs" Moran, Vincent Drucci and Hymie Weiss chased down Angelo Genna in a high-speed car chase. Angelo's car crashed into a light pole at Hudson and Ogden, the Northsider's then shot him to death. He was 27 years old. With Angelo's death, the Genna crime family began to decline. Two of Genna's brothers would also die violently leading the remaining three brothers to flee Chicago to avoid being killed.
Community content is available under
CC-BY-SA
unless otherwise noted.