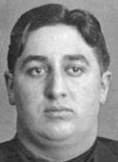 Angelo Anthony Lonardo (1911 − April 1, 2006) known as "Big Ange", was a powerful capo of the Cleveland crime family. He was the son of the first nationally recognized Cleveland Mafia boss Joseph Lonardo. Lonardo would later betray the mafia and become a Government witness.
Biography
Lonardo was born in 1911 in Cleveland to Joseph and Concetta Lonardo. His godfather was Anthony Milano. His father Joseph and his brothers dominated bootlegging in Cleveland during Prohibition until they came into conflict with their ex-allies, the Porrello brothers. After his father was murdered by a member of the Porrello crime family in 1929, 18 year old Angelo swore revenge and murdered Salvatore Todaro with his cousin Dominic Sospirato. Lonardo was tried and sentenced to life in prison. However, his lawyer was able to get a second trial and he was discharged and released. He later joined Milano's brother Frank Milano in the Cleveland crime family.
No member of the Cleveland Mafia was as respected by his peers as "Big Ange" Lonardo. By the time James T. Licavoli became boss, Lonardo was a grizzled veteran of the rackets. After the disappearance of Leo "Lips" Moceri, he was the obvious choice for underboss. When Licavoli was sent to prison in 1983, Lonardo became the new boss of the Cleveland family. During his short tenure as boss Lonardo became heavily involved in narcotics with capos Joseph "Joe" Gallo and Thomas Sinito and were all convicted on RICO charges.
Government Witness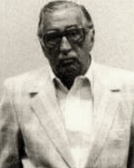 After his arrest in 1983, Lonardo became a government informant and testified against his former colleagues and several mob figures throughout the United States. During testimony before a Senate Subcommittee Lonardo admitted that it was he and John DeMarco who murdered onetime Cleveland family boss Giuseppe "Dr. Joe" Romano because Romano had a role in the death of his father and he believed that he had also killed a cousin of his on the operating table. The senators listened spellbound as Lonardo spilled all the secrets that he had sworn never to reveal.
Lonardo, together with Jimmy "the weasel" Fratianno, the acting boss of the Los Angeles crime family were the highest ranking mobsters to become federal witnesses, until Gambino crime family underboss, Sammy "the Bull" Gravano during the early 1990s. He eventually went into the federal witness protection program, but left it to return to Cleveland.
Angelo Lonardo died in his sleep on April 1, 2006, aged 95. He was buried in Calvary Cemetery in Cleveland, Ohio. A Documentary on Lonardo's life entitled 'The Sugar Wars: The Life Story of Angelo Lonardo' was released in 2012.