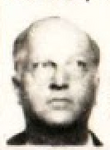 Angelo Polizzi (born around 1913- died 1976) was a high ranking mobster and capo in the Los Angeles crime family.
Biography
Born in Buffalo, New York, Polizzi was a longtime Los Angeles underworld strong-arm figure who first began working as a bartender in San Bernardino upon his arrival in California. Polizzi was also employed as a debt collector and bookie. He was known to frequent the clubs and restaurants along Highland and Waterman Avenues and maintained a residence in San Bernardino for many years. He was married to the daughter of fellow L.A. mobster Gaspare Matranga. He was allegedly made a member of the Los Angeles crime family in 1953. Polizzi was suspected by authorities to be the hitman in the murder of Mickey Cohen lawyer, associate and political fixer Samuel Rummel who was killed in front of his own home. Polizzi was also a suspected in a couple of other murders in Los Angeles.
Polizzi was a frequent patron at the Santa Anita race track and on one occasion a $25,000 payout proved particularly painful for Polizzi. Polizzi having just witnessed one of the most exciting finishes a gambler could hope for was knocked unconscious as he stood- wining ticket- in hand near the finish line while track officials reviewed a photo of an extremely tight finish. Polizzi therefore decided in addition to his $25,000 payout that he would increase his take by suing the track for his injuries which in addition to his pride and ego included a sizable gash to his scalp. The law suit was ultimately dismissed.
On August 6, 1951, Polizzi along with Jimmy "the weasel" Fratianno, Charles Battaglia, Leo "Lips" Moceri and Nick Licata participated in the murder of Anthony Brancato and Anthony Trombino, who were found shot to death in the front seat of a car near Hollywood Boulevard. Battaglia and the others were arrested for the crime but Licata had set up a phony alibi for everyone involved, and no one was charged with the murder and it remained unsolved until Fratianno entered the federal Witness Protection Program over 25 years later and admitted to murdering the duo. Polizzi was the getaway driver during the hit.
Polizzi was once employed at Wip Inc. a Hawaiian company with organized crime ties that had many business and land holdings. He steadily rose through the ranks of the Los Angeles family to become a capo and was considered to be an important lieutenant of Nick Licata.
Polizzi died of natural causes in 1976.