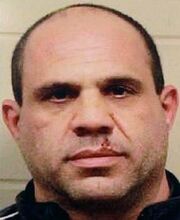 Anthony "Big Anthony" Russo (born 1960) is a former soldier/ acting capo in the Colombo Crime Family who turned informant. No relation to Colombo acting boss Andrew Russo.
2011 Mob Round-up
In 2011, the FBI rounded up more than 100 mobsters in New York and New Jersey. Russo was arrested along with Colombo acting boss, Andrew Russo, acting underboss Benjamin Castellazzo, and consigliere Richard Fusco.
Russo was charged with racketeering and the 1993 murder of Colombo underboss Joseph Scopo during the family's civil war.
Mob associates Thomas McLaughlin and Peter Tagliavia tape-recorded Russo, mobster Joseph Savarese, and associate Scott Fappiano, talking about a "violent home-invasion robbery" plot in which the schemers planned to use bulletproof vests and two handguns. One of the informants also caught Russo talking and joking about wild shootouts that he had survived in car chases during the bloody 1991-to-1993 Colombo war that left 12 people, including two innocent bystanders, dead. He also admitted being part of the hit team in 1993 that murdered Orena faction rival Joseph Scopo, whose brother, Ralph Scopo Jr, is a codefendant in the massive 39-defendant indictment.
Informant
At first Russo refused to cooperate with the Police, but after he was snared in the monstrous Mafia takedown, he changed his mind soon after he was detained without bail because he was deemed a danger to society.
Russo, has given the feds solid evidence that Francis Guerra (B.F.), a drug-dealing wise guy with close ties to two second-generation Persico family gangsters, was part of the hit team in the 12th and final killing in the Colombo family's bloody 1991-93 war and in the 1992 hit against Staten Island nightclub owner Michael Devine. Russo implicated himself and Guerra in the Scopo slaying during several tape-recorded talks he had with another turncoat during the investigation. Sources say Russo admitted his own involvement in the murder plot and confirmed for the feds that B.F. was in the car with him. He also shared that Colombo capo Theodore Persico Jr gave the order to kill Scopo while attending his grandmother's funeral.
Prison Sentence
Russo faced life for his numerous crimes including his role as a getaway driver in a mob rubout, but the one-time Colombo capo instead was sentenced to 35 months time served in exchange for his invaluable service as a government witness which helped to bring down the crime family.
People Killed by Anthony Russo
1). Joseph Scopo/ Colombo capo/ Scopo was killed because he was a member of the rival faction during the third Colombo war.hm
References