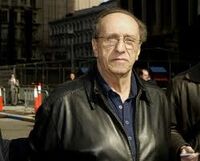 Anthony "Tico" Antico (pronounced "ahn-TEE-koh") (born June 16, 1945) (Lido Beach, New York) is a New York mobster and a reputed captain in the Genovese crime family.
In 2005, Antico was indicted on federal racketeering charges and racketeering conspiracy, which included murder conspiracy, extortion, loansharking and witness tampering. Law enforcement identified Antico as a captain in the Genovese family, operating criminal activities in Brooklyn and Manhattan, as well as associating with then acting boss Dominick Cirillo and captains Lawrence Dentico and John Barbato, the indictment claimed that Antico was included in a panel since the late 1990s of powerful Genovese family capos who decided to corrupt labor and construction unions in New York and New Jersey through bribing and extorting their locals in order to achieve influence with companies operating in those areas. Antico, Cirillo and Barbato were charged with murder conspiracy, as they reputedly plotted to murder an important prosecution witness.
On October 19, 2005, Antico pled guilty to lesser extortion charges. On March 4, 2006, Antico was sentenced to 30 months in prison. He was released from prison on June 22, 2007.
On July 29, 2010, Antico was convicted of racketeering for running a mob social club on Staten Island and conspiracy to extort money from a race track winner. However, he was acquitted of extorting a bagel shop and ordering the robbery of Staten Island jeweler Louis Antonelli, which resulted in Antonelli's shooting death. Antico was sentenced to nine years in prison, a stiff sentence because the judge ruled that the testimony of government witness Salvatore Maniscalco tying Antico to the heist was credible and should be factored in the sentence.
Antico is currently imprisoned at the Butner Federal Medical Center (FMC) in Butner, North Carolina. His projected release date is June 12, 2018.