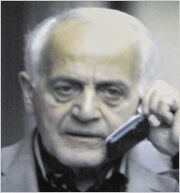 Anthony Croce (born December 24, 1932) is a new york mobster and a soldier and former acting capo in the Lucchese crime family.
In November 2008, Croce was arrested for running a sport gambling ring operating in the Bronx and Manhattan. In October 2009, Croce along with Capos Joseph DiNapoli, Matthew Madonna and 26 other members of the Lucchese family were indicted on bribery, loansharking, gun trafficking, extortion, gambling and racketeering charges. In November 2009, Croce was indicted in "Operation Night Gallery" along with soldier Joseph Datello on illegal gambling charges. He controlled the sports gambling operations from Datello's bar "Night Gallery" in New Dorp, Staten Island. The indictment also stated Croce would have conversations with mobsters on the streets of the Financial District and the Staten Island Ferry.
As of 2018, Croce has been identified as a capo.