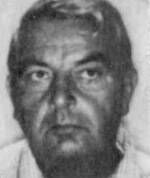 Anthony Delsanter (born March 11, 1911 - died August 1977) also known as "Tony Dope", was a longtime mobster and Consigliere of the Cleveland crime family.
Biography
Born in Cleveland's Little Italy on March 11,1911 Anthony Delsanter showed an inclination for crime as a youngster. Tony Dope and his childhood pal Aladena Fratianno "who later rose to infamy as Jimmy the Weasel". He began hanging around the Italian-American Brotherhood on Mayfield run by local bigshot Anthony Milano. Anthony Delsanter and Jimmy the Weasel were introduced to the inner workings of the Cleveland underworld at the local racetracks which provided them with a little extra cash from their small scale booking operation.
The rise of Tony Dope can be traced to his hooking up with James T. Licavoli, a notorious hood from Detroit by way of St.Louis who was on the lamb from a high profile murder case which led to the incarceration of his cousin for nearly 40 years. Through his association with Licavoli, Delsanter met and became a close and trusted ally of John Sebastian LaRocca and Frank Valenti, two men who would go on to head crime families in Pittsburgh and Rochester New York respectively. By 1936 Tony Dope, Jimmy the Weasel and Frankie Valenti began sticking up gambling halls and illegal casinos all around the Ohio Valley. In one raid at Tony Dope and Jimmy scored for $5,800 dollars while at yet another location the Licavoli-Larock combo hit for more than $70,000. Tony Dope and his childhood friend the weasel would soon be separated after a robbery conviction sent Fratianno away for 7 years and Tony Dope followed his new boss James Licavoli on to Youngstown Ohio a flourishing gambling town with a reputation for being wide open. Tony Dope would handle the enforcement duties in Youngstown eventually receiving his button in 1963 after killing Mike Farrah a local gambler who along with his brother had fronted the jungle in for Jack Licavoli and Frank Cammarata. For solving this problem for Jack, Tony was given the exclusive rights to run Licavoli's empire in the small Ohio town of Warren. Jack Licavoli rose to lead the Cleveland family and named his cousin Leo Moceri as his underboss and Tony Dope his capable aide for so many years was rewarded for his loyal service with the advisor or Consigliere position.
He played a large role in the mob war against Irish mobster Danny Greene and died in August, 1977, of natural causes.