Anthony DiLapi (February 9, 1936 - February 4, 1990) a New York Mobster in New York City's Garment District in the Lucchese crime family.
Garment District Boss
Anthony DiLapi was an instrumental cog in family boss Anthony Corallo's illegal control of the New York City garment district. DiLapi worked with Thomas Gambino, the son of Carlo Gambino and son-in-law of Gaetano Lucchese. DiLapi was one of organized crime's biggest earners and most respected racketeers on Seventh Avenue in Manhattan. DiLapi also ran a bookmaking business and owned part of vending machine company in Brooklyn.
In May 1980, DiLapi was convicted of conspiracy and obstruction of justice for putting down a union's organizing drive at a garment district trucking company. DiLapi received two consecutive sentences of five years each for the conspiracy count and the obstruction count.
Escape to Los Angeles
Upon DiLapi's release from prison, new underboss Anthony Casso summoned DiLapi to a meeting. DiLapi was afraid to attend this meeting; he knew that Casso and boss Vittorio Amuso distrusted anyone from the family's more powerful Bronx wing. Instead, DiLapi fled to Los Angeles to a new life away from the lucchese crime family.
In response, Casso used two New York Police Department (NYPD) detectives on his payroll, Louis Eppolito and Stephen Caracappa, to track down DiLapi in California. The two detectives called police stations and law enforcement agencies throughout the state and finally located DiLapi in Los Angeles. Casso and Lucchese captain Alphonse D' Arco organized a hit team to kill DiLapi. D'Arco offered the murder contract to his son, Joseph D'Arco, so that he could qualify ("make his bones") to become a made man in the Lucchese crime family.
Death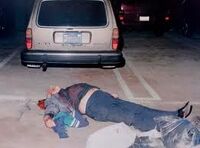 On the night of February 4, 1990, Joseph D'Arco and a Lucchese hit squad murdered Anthony DiLapi in the underground garage for his apartment building in Hollywood, California. DiLapi was shot four times in the face and four times to the body.
On April 6, 2006, Louis Eppolito and Stephen Caracappa were convicted of murder for their role in eight mob killings, including that of Anthony DiLapi.