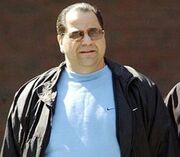 Anthony DiNunzio is an Italian-american mobster with the Providence based Patriarca crime family, he is the younger brother of Carmen DiNunzio, who is the family's current underboss.
Biography
It is currently unclear as to who exactly is the boss of the Patriarca family, whether Peter Limone remains in charge or if Tony DiNunzio has officially taken over after being the Acting boss of the family while Limone was on trial for gambling charges. In 2010, Limone was released after being given a suspended sentence. Anthony DiNunzio was arrested on April 25, 2012 and charged with racketeering and extortion. On September 13, 2012, DiNunzio plead guilty to shaking down Rhode Island strip clubs, and was sentenced to six years in prison on November 14, 2012. His brother Carmen is also currently imprisoned.
Community content is available under
CC-BY-SA
unless otherwise noted.