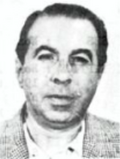 Anthony J. Lima (born October 13, 1905 - died January 28, 1986) was perhaps the most violent and feared boss of the San Francisco crime family which he headed from 1937- 1953.
Biography
Anthony Lima was a native of Johnstown, Pennsylvania were he first became involved in criminal activities. In 1928, he was indicted and tried for murder but was acquitted. Soon after his acquittal Lima moved to California and became a member of the San Francisco crime family and became a prominent member of the Bay Area mob. Lima reportedly had two mistresses that lived a few blocks away from each other on Carl street in San Francisco, one of which he resided with, apart from being married to his cousin Nancy Lima, with whom he had three children. He became the boss of the San Francisco family following the death of founder boss Francesco Lanza (father of James Lanza), he would rule the crime family for approximately 16 years. Lima was a businessman who owned a car dealership and according to authorities also specialized in extortion and fraud. Lima's other legitimate fronts were as an olive oil dealer and cheese salesman. Lima reportedly took over some San Francisco Area labor unions previously controlled by Frank Lanza after the latter's death. He was considered a mafia killer and was said to be greatly feared by Italian residents of the Stockton-Lodi, California Area. In 1952, Lima was convicted of grand theft and conspiracy. He was paroled from jail on October 29, 1956 after serving 4 years in San Quentin prison, but by then Lima's power within the Bay Area mafia had began to fade away and he was replaced as boss by Michael Abati. While on parole Lima worked in the San Francisco market at his brother Dominick's fruit stand. His parole ended on April 27, 1960. He remained an underworld figure in the San Francisco Area and managed to avoid any further jail time until his death.
Anthony J. Lima reportedly died of natural causes in 1986 in San Francisco, California.