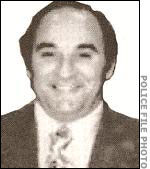 Anthony Dominic Liberatore (June 7, 1921 - 1998) known as "Tony Lib", was a high ranking mobster in the Cleveland crime family and one of its most respected and well thought of members.
Biography
Liberatore served 20 years in prison for a 1938 murder conviction. Upon his release he was active in the labor unions and became a prominent member of the Cleveland Mafia. In 1972 he was granted a full pardon by the State of Ohio. He would eventually become a business manager for Local 860 and in 1975 was appointed to a regional governing municipality by the mayor of Cleveland. Once he was made into the Cleveland family, boss James Licavoli thought so much of him that he was quickly elevated to capo status.
In the mid to late 1970's a young Irish mob boss by the name of Danny Greene had begun a full on war against the Cleveland crime family to take over the rackets. In April of 1976, Geraldine Linhart, a clerk in the Cleveland FBI office for nine years, was having trouble with a lawsuit. Her fiance, Jeffery Rabinowitz, approached a friend of Anthony "Tony Lib" Liberatore for help. For what turned out to be $1,000, plus a $15,000 loan and a false promise to help her with her suit, she managed to copy a list of confidential informants from her blissfully ignorant FBI employers.
Among the names Mob leaders were surprised to find on the list were: Jackie Presser, who was being groomed to succeed his father, Bill Presser, as head of the Cleveland Teamsters. Also listed was Tony Hughes, the liaison between Presser and James Licavoli and last but not least, Danny Greene. After this the Cleveland mob was even more determined to have Greene killed as soon as possible. This leakage of information was also part of what prompted mobster Jimmy "the weasel" Fratianno to become a government witness as he feared he would soon be uncovered as an FBI informant. Liberatore was part of a crew that supplied the backup hit team for the 1977 murder of Greene.
Boss of Cleveland Family
From 1982 to 1990 Liberatore served time for a racketeering conviction. Brother John Liberatore had been convicted of racketeering in San Diego in 1974, much weakening the Cleveland family influence on the west coast. When he was released from prison Liberatore found himself the highest ranking Cleveland crime family member left on the streets in 1991, it was also in this year that John Tronolone, who ran the family from Florida, was convicted for accepting stolen property and loansharking and died of natural causes. After this, Liberatore apparently was seen as the new boss of the Cleveland family. Liberatore was Convicted in 1993 of money laundering and was sentenced to 8 years in prison. He died while in prison in 1998 from complications of cystic fibrosis. He was said to be succeeded by Joseph Iacobacci.