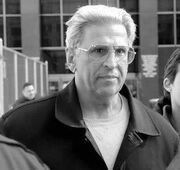 Anthony "Tony D." Palumbo (born 1949) is a capo in the Genovese crime family.
Criminal Career
In the 1980's "Tony D." was a trusted aide of Genovese capo Daniel Pagano, who represented the Genovese interests in the "Gasoline Bootlegging Rackets". Originated in 1987 by the Organizatsiya, a Russian criminal organization in Brooklyn, the scam involved fake transactions of large quantities of gasoline and diesel that were designed to defraud the State of New York out of excise taxes.
In late 1992 or early 1993, Pagano thwarted a proposed murder of a Russian mobster. Palumbo's business partner, Victor Zilber, asked him to arrange the murder of an employee, Russian mobster Monya Elson. When Palumbo approached Pagano for approval, Pagano immediately vetoed the hit. Pagano was afraid that killing Elson would cause major problems with the Organizatsia.
In the 1990's, Palumbo was placed in charge of overseeing the Genovese crime family's interests in the gasoline bootlegging rackets, replacing pagano.
In September 1996, Palumbo and Pagano were indicted on charges of defrauding the government of $77 million in tax revenues.
Upon the arrest and imprisonment of Tino Fiumara and other Genovese crime family members, Palumbo was allegedly made the Acting boss of the Genovese family's New Jersey faction from 2006 until 2009 when he and other mobsters including Daniel Leo were arrested by federal agents. Palumbo was sentenced to ten years in prison and three years of supervised release for conspiricy to murder. He had already pleaded guilty on August 30, 2010.
He is said to be the nephew of late Genovese capo Andrew Gerardo who died in 2012.