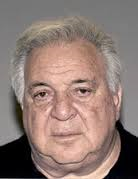 Anthony "Fat Tony & Mr. Fish" Rabito (born in Williamsburgh, Brooklyn 1934) is a capo in the Bonanno Crime Family and former acting consigliere.
Criminal Career
In 1974, Rabito became a made man of the Bonanno family. Her served under caporegime Dominick Napolitano from 1979 to 1982.
In 1982, Rabito was sentenced to 6 years for drug trafficking. He was involved in a prescription drug ring that sold large quantities of the painkiller drug Vicodin to street level users. These charges stemmed from the wake of the Donnie Brasco case, when FBI agent Joe Pistone infiltrated the Bonanno family.
In 2005 Anthony was indicted for a illegal gambling and loansharking enterprise stretching from Brooklyn to Queens, New York, Manhattan, New York and Staten Island which earned $210,000 a week from January 2003 to July of 2004.
In 2006 Rabito, the then Bonanno acting underboss Nicholas Santora, and others were charged with participating in gambling, extortion and racketeering. Rabito served 2 1/2 years at the Loretto federal prison in Pennsylvania. He was released in 2009.
In 2010, thanks to information provided by former Bonanno underboss turned rat, Salvatore Vitale, Rabito was sentenced to 33 months in prison for his involvement in several mafia rackets.
References
http://www.nytimes.com/interactive/2010/10/28/us/mafia.html?ref=nyregion&_r=0
http://nypost.com/2009/08/02/feds-say-fugedabout-eat/