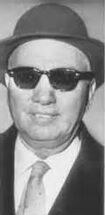 Anthony Peter Riela (August 22, 1896- date of death unknown) was a capo in the Bonanno crime family's New Jersey faction.
Biography
Riela was born in Terranova, Sicily. Upon his arrival in the United States he first resided in Illinois where he became a close associate of Antonio Musso, founder of the Rockford crime family, with whom he worked closely during Prohibition in the 1920s and remained connected with even after moving away from Rockford. Riela was a very influential mobster during his days in Rockford, Illinois and was also associated with future crime bosses Gaspare Calo and Joseph Zammuto.
Riela relocated to New Jersey for unknown reasons and resided at 7 Benvenue West Orange, New Jersey. It was here that he became a member of the Bonanno crime family under legendary Mafioso Joseph "Bananas" Bonanno. Riela had arrests since 1955 for maintaining nuisance, obstruction of justice, permitting prostitution in addition to being a suspect in two murders in Rockford, Illinois in 1944. He became a leader or capo in the Newark, New Jersey area and was a reputed strong-arm man engaged in illegal gambling. Riela owned an Airport and the Newmarker Motels in Newark. Riela was one of many prominent mafiosi from across the U.S. who attended the 1957 Apalachin Mafia Conference in upstate New York, for which he was detained and questioned before a grand jury.
Riela remained active in the Bonanno family into the 1980s. His date of death is unknown.