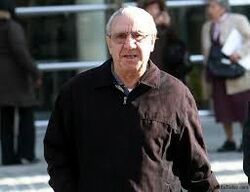 Anthony "Rom" Romanello (born 1938) is a capo in the Genovese Crime Family operating from Corona Avenue in Corona, Queens.
Criminal Career
In 2006, federal prosecutors in Manhattan charged Romanello with threatening to use violence to extort the owner of a bakery. He was convicted of conspiring to obstruct justice by tampering with a witness and placed on two years probation

In December 8, 2010 Romanello was indicted on federal racketeering and extortion charges for allegations that date back to the 1990s, including using extortion to collect a debt.
In January 10, 2012 he pleaded guilty to illegal gambling. He also got lucky when a cooperating witness for the feds had a heart attack while prosecutors were prepping him for the gangster's trial. He faces from 10-16 months in prison.
On Decmber 1, 2012, Romanello (charged with extortion) and Colombo consigliere Thomas Farese (who was charged in a separate trial for money laundering) were acquitted of their criminal charges. Both Romanello and Farese's cases were severely hobbled by the absence of two mob rats who secretly recorded the key evidence, but were kept off the witness stand because they had been engaging in misconduct while working as informants.
References
http://nypost.com/2010/12/08/old-mobster-busted-for-extortion-racketeering/
http://www.nydailynews.com/new-york/genovese-wiseguy-anthony-romanello-lucks-cops-gambling-rap-feds-article-1.1004303
http://nypost.com/2012/01/11/genovese-capo-cops-to-racketeering-extortion-and-gambling-charges/
http://nypost.com/2012/11/28/witnesses-sing-sopranos-at-mafioso-trial/
http://www.nydailynews.com/new-york/mob-men-walk-free-stunning-verdicts-article-1.1211428