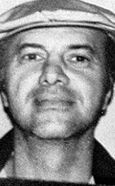 Anthony "The Saint" St. Laurent (date of birth unknown) is a long time mob figure in the Providence, Rhode Island underworld, his activities date back to the 1960's. He is a capo in the Patriarca crime family.
Biography
St. Laurent was born of Italian parents, his father died when he was young and his mother remarried and both of them took her new husbands last name, St. Laurent.
In July 1993, Robert DeLuca and St. Laurent along with 24 others were indicted for running a bookmaking operation out of the Foxy Lady strip club in Providence. DeLuca pleaded guilty and was sentenced to five years, while St. Laurent received 10 months for his role. On September 23, 1993, St. Laurent would gain notoriety by being entered into the infamous Nevada "Black Book," a listing of people who are banned from setting foot in any casino in the state of Nevada.
He was jailed again in 1999 along with family soldier Edward Lato, for running a large bookmaking and sports betting operation, both were sentenced to six years.
In 2006, St. Laurent was arrested for attempting to extort two Massachusetts businessmen, by this time he was old and in bad health, using a wheelchair to get around. In later years, St. Laurent and Bobby DeLuca, his one time partner, had a long running war of words, which ended with St. Laurent hiring hitmen to murder DeLuca after apparently learning DeLuca was falsely telling others that the Saint was a government informant. DeLuca was informed of the contract placed on him by the FBI and decided to cooperate with the government. St. Laurent was sentenced to seven years in jail for the murder plot.
The St. Laurent crew is still considered active.
On November 7, 2016, St. Laurent passed away from natural causes