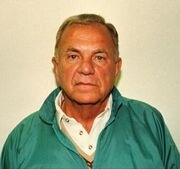 Anthony Joseph Tocco, known as "Tony T", is a mobster and current consigliere of the Detroit Partnership, a posistion he has held since 1993.
Born into the ranks of the elite amoung Detroit area crime families as the second son of Vito William Tocco and Rosalie Zerilli. Anthony himself was the subject of one of the grandest underworld weddings of them all when he married Carmella Profaci, the daughter of New York mob father Joe Profaci on June 4,1955 at the Hotel Commodore in New York city. In attendence at the Tocco/Profaci wedding were such underworld notables as Santo Trafficante, Albert Anastasia, Joe Bonanno, Frank Livorsi, Tommy and Johnny Dio and Thomas Lucchese.
In addition to marrying well Anthony was active in labor racketeering and appeared on the roster of the Hazel Park Racing Association along with his older brother Jack Tocco and several other relatives, friends and associates.
Anthony Tocco lived a very quiet and conservative life untill he was named in an indictment against seventeen members or associates of the Detroit Partnership in 1996. The Tocco brothers were accused of running a criminal enterprise which had been active for at least 30 years. Anthony emerged from the proceedings unscathed as he was acquitted of all charges and returned to the Partners in a much expanded role as his older brother was sent off to prison for the first time in his life. Anthony Tocco remains a powerful figure in the Detroit Partnership in spite of his advanced age and the pending legal problems which continue to plague his brother Jack.