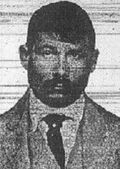 Antonino "Tony" Giannola, Jr. (born 1880 - Terrasina, Sicily - died Januray 3, 1919, Detroit) was an early boss of the Detroit crime family, also known as the Detroit Partnership.
Biography
Giannola was born in the Terrasina region of Sicily in 1880 he emigrated to Detroit in 1901. Along with his brother Salvatore they opened a general store called the Atlantic & Pacific Tea Co. a/k/a A & P Store, in Ford City (now known as Wyandotte) and other enterprises and sidelines in the Little Italy area of Detroit.
Soon he got involved with criminal activities and got himself into dangerous scrapes. One time he was severely wounded in an assassination attempt in 1913 by the Adamo brothers who were acting on the behalf of an Italian group of business men called the "White Hand Society". The Ensuing war resulted in the Adamo brothers being killed, therefore all resistance and challenges against the Giannolas faded away. Antonino had another brother called Vito but he was not as prominent as the other two. The three of them were known as the wealthiest Italians in Detroit, they were generous with their friends, but ruthless with their enemies. They were later challenged by a rival Mafia boss called Vitale who plotted Antonino's death. Tony Giannola was lured way from his Ford City home after the killing of a friend, on January 3rd 1919 and was gunned down in front of his friend's home whilst paying a visit of benevolence; his killer was his adopted son and personal bodyguard, Tony Alescio. Antonino Giannola's murder triggered off a big gang war which claimed many lives and changed the face of organized crime in Detroit forever.