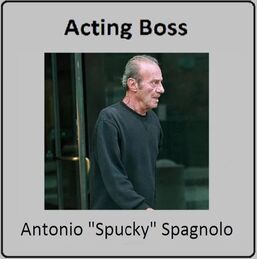 Anthony L. "Spucky" Spagnolo (Born 1942) is the former Acting Boss of the Patriarca Crime Family.
Background
Spucky is a known convicted drug dealer and racketeer for the New England Mafia. Getting his start in the East Boston faction of the New England mafia, Spagnolo was a protégé of deceased syndicate consigliere, Joseph Russo (J.R.). As a young Goodfella, Spagnolo was running buddies with Russo's step brother, Robert (Bobby Russo) Corrozza. The two acted as a collection team on behalf of the East Boston mob czar.
Sponsored by Russo, Spagnolo was inducted into La Cosa Nostra by the Family's namesake Raymond Patriarca in an early-1980s ceremony. This was Patriarca's first member induction ceremony after being released from prison on a murder conspiracy conviction.
Spagnolo's nickname (Spucky) was derived from the mispronunciation of a previous moniker "Spunky" he had during adolescence
According to the federal government, Spagnolo took the reins of the New England mafia on a day-to-day basis two years ago when his predecessor, Anthony DiNunzio, was sentenced in Rhode Island in 2012 to 78 months in prison for racketeering related to his extortion of a pair of Rhode Island strip clubs.
Criminal History
His arrest record dates back to the late 1950s, with charges ranging from public drunkenness and disturbing the peace to narcotics trafficking, armed robbery and racketeering.
Barboza Murder
On February 11, 1976 FBI records allege that Spagnolo traveled to California with Russo to murder infamous New England mob strong-arm turned government witness Joseph Barboza (Joe the Animal) in 1976. Multiple informants told their FBI handlers that Spagnolo acted as the getaway driver and look-out while Russo shot-gunned Barboza on a San Francisco street corner.
Undercover Agent DelaMontaigne
Throughout the 1980s, Spagnolo frequented "The Roma," an East Boston Italian eatery owned by Biagio DiGiacomo, a Sicilian-born Patriarca Family capo. In 1985, DiGiacomo's crew, which at that time was a sub-faction of J.R. Russo's regime and included Spagnolo, was infiltrated by an undercover FBI agent named Vincent DelaMontaigne.
DelaMontaigne and Spagnolo ran illegal card games and sold drugs together throughout 1985, 1986 and parts of 1987. On one occasion in 1986, Spagnolo got into a verbal altercation with a patron at The Roma and DelaMontaigne had to stop him from stabbing the man with a 12-inch hunting knife he was brandishing.
In January 1987, with the Beantown crime syndicate on the verge of erupting into violence and splitting into an all-out civil war, Spagnolo was tape-recorded telling the wired-for-sound DelaMontaigne, "Things are tough these days in the mafia…I might have to go back to making money the old-fashioned way, pulling kids out of their sneakers and emptying their fucking pockets."
Spagnolo and Pryce Quintina, members of the Russo-Ferrara faction of the conflict, were each present at the recorded induction that took place at a house in suburban Medford on October 29, 1989. Audio surveillance of the ceremony and the undercover work of DelaMontaigne were both included as part of a massive 1990 federal racketeering case levied against the Patriarca Family which ensnared, Spagnolo, Patriarca, Jr., Russo, and DiGiacomo, among others.
Convicted in 1991, Spagnolo served nine years in prison and was released in 2000, almost immediately being named a capo upon hitting the street again as reward for keeping his mouth shut.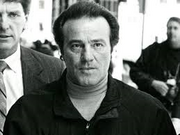 Limoli Murder
On October 28, 1985 Spucky's name surfaced in the investigation into the slaying of Jimmy Limoli, a North End Boston wiseguy and close friend of another Russo protégé, Vincent Ferrara (Vinnie the Animal). Limoli had allegedly angered his superiors in the mob by operating drug rip-off scams and was said to have stolen $100,000 worth of cocaine from Spagnolo. Spagnolo went to Limoli's capo and childhood pal, Ferrara and complained about Limoli boosting his coke and attended numerous sit-downs with syndicate administrators and Limoli himself to try to resolve the issue.
2014 Arrest
In October 2014, Spagnolo and fellow mobster Pryce Quintina (Stretch) were indicted on charges of extortion based on collecting thousands of dollars of protection money from Boston-area Constitution Vending and the Revere Moose Lodge, a local social club.
According to the FBI, Spagnolo instructed Quintina to shake down Constitution Vending and the Revere Moose Lodge, where Constitution had several video poker machines for at least $50,000 in an eight-year period from 2004 to 2012. When one of the men that ran the Revere Moose Lodge decided to try to remove the machines provided by Constitution Vending and replace them with machines from another vending company, he was called to a meeting with Spagnolo and Spagnolo threatened him with violence. After a rival vending company contacted the Revere Moose Lodge and attempting to persuade them to use their machines, instead of Constitution Vending's, the owner of the company was approached by Spagnolo and was also threatened.
These charges hold a sentence of up to two decades in prison. Following their bookings on their charges, Spagnolo and Quintina were both released on bond and fitted for ankle-bracelet monitors.
People Murdered By Spagnolo
1. Joseph Barboza/ 1976/ New England mobster/ Killed because he became a government witness
2. Jimmy Limoli/ 1985/ North End Boston wiseguy/ Limoli had allegedly angered his superiors in the mob by operating drug rip-off scams
References
http://www.gorillaconvict.com/2014/10/boston-godfather-busted-spuckys-turn-top-yields-similar-results-predecessors-scott-burnstein-exclusive-www-gangsterreport-com/
http://www.bostonglobe.com/metro/2014/10/02/revere-man-identified-alleged-acting-boss-new-england-mafia-federal-indictment/lBXG8fvQqihepC5yeIJr0I/story.html