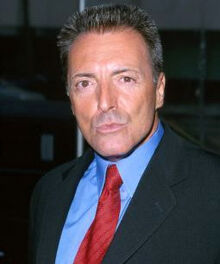 Armand Anthony Assante (born October 4, 1949) is an American actor. He is noted for an Emmy Award-winning role as mobster John Gotti in the 1996 HBO miniseries Gotti.
Personal life
Assante was born in New York City, and raised in Cornwall, New York, the son of Armand Anthony Assante, a painter and artist, and Katharine (Healy), a music teacher and poet.
Career
During the 1970s, Assante was a regular on two NBC soap operas, How to Survive a Marriage as Johnny McGee and The Doctors as Dr. Mike Powers. His first film was The Lords of Flatbush (1974), although his work did not appear in the final cut of the film and the end credits misspelled his last name as Assanti. His first on-screen role was playing Sylvester Stallone's brother in Paradise Alley and a role that brought him greater attention came in 1980's Private Benjamin as a handsome Frenchman who becomes the love interest of a U.S. soldier played by Goldie Hawn.
Assante's somewhat sinister look has made him a popular choice for tough-guy heroes, as in his starring role as private eye Mike Hammer in the film I, the Jury (1982) or as Mafia gangsters such as Michael Moretti in Sidney Sheldon's Rage of Angels. In 1990 his role as Roberto Texador in Sidney Lumet's film Q&A garnered him a Golden Globe nomination, and the following year he portrayed the notorious Bugsy Siegel in Neil Simon's The Marrying Man (1991). The following year he was seen as mafia boss Carol D'Allesandro in Hoffa (1992) starring Jack Nicholson, and crime kingpin John Gotti in the 1996 made-for-television biopic Gotti, for which he won his Primetime Emmy Award for Outstanding Lead Actor in a Miniseries or a Movie.
In addition to mafia and "tough-guy" roles, Assante has distinguished himself in historic dramas, such as Napoleon Bonaparte in 1987's Napoleon and Josephine: A Love Story opposite Jacqueline Bisset, the heroic Odysseus in The Odyssey, Friedrich Nietzsche in the film adaptation of Irving Yalom's novel When Nietzsche Wept, and as Sanchez, Queen Isabella's Minister of State, in 1492: Conquest of Paradise.
Other notable film appearances include one as a Cuban bandleader in The Mambo Kings opposite Antonio Banderas and in the adaptation of the science-fiction story Judge Dredd with Sylvester Stallone, his co-star in Paradise Alley. In 2007 he appeared in American Gangster (2007) with Denzel Washington and Russell Crowe. He had a recurring guest star role in several episodes of NCIS, playing the international arms dealer René Benoit. He has also appeared in the 2009 horror film Smile as the mysterious Tollinger. Outside of the U.S., he has participated in several film projects and humanitarian endeavors in Romania, Bulgaria, Macedonia, Serbia, Croatia, Bosnia-Herzegovina, Kazakhstan, and Uzbekistan.
Community content is available under
CC-BY-SA
unless otherwise noted.