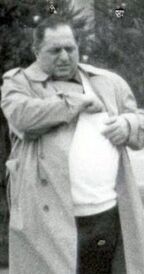 Benedetto "Benny" Aloi (October 6, 1935 – April 7, 2011) was a New York City mobster who became consigliere of the Colombo crime family. Aloi was a main figure in the famous "Windows Case".
Early years
Benedetto along with his brother Vincenzo Aloi joined their father Sebastian "Buster" Aloi in the Profaci crime family.
On November 19, 1974, Benedetto Aloi was indicted in Brooklyn along with 156 other mobsters on perjury charges. He was accused of lying to a grand jury that what investigating police collusion with an illegal gambling ring.
On June 28, 1984, Aloi was indicted on loansharking charges. Prosecutors alleged that he was involved with Resource Capital Group a company in Lake Success, New York, that lent over $1 million in a year and a half at interest rates of 2 percent or more per week.
Windows case
In May 1990, Aloi was indicted in the famous "Windows Case" along with other members of four of the New York crime families. In the Windows case, the crime families used their control over local construction unions and companies to fix the bid prices offered to the New York Housing Authority for thermal pane windows in its housing projects.
On May 18, 1991, Aloi was convicted of one count of extortion and a related conspiracy count in the Windows case. Under normal sentencing guidelines, Aloi might have received a three to five year sentence. However, due to his criminal record, his high rank in the Colombo family, and the high profile of the case, the judge gave Aloi 16 years and eight months in prison.
On March 17, 2009, Aloi was released from a halfway house in the Greater New York area. He died on April 7, 2011.