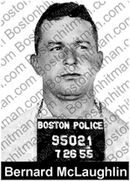 Bernard "Bernie" McLaughlin was an Irish-American gangster from Charlestown, Massachusetts and leader of the Charlestown Mob also known as "The McLaughlin Brothers" gang.
Biography
McLaughlin first began operating as a loan shark and enforcer for the Angiulo Brothers of the North End, Boston. After the Irish gangs decided to break away from Italian control, Bernie and his brothers Edward McLaughlin and George McLaughlin took over the rackets in and around Charlestown, Massachusetts, forming their own crew which at it's peak was said to be made up of 40 to 50 members. They soon built a reputation as a fearsome crew, and carried out contract killings for gangsters all over New England, including the Patriarca crime family and the Winter Hill Gang.
Irish Gang Wars
Soon after, at a Labor Day party on Salisbury Beach, George McLaughlin was badly beaten by two members of The Winter Hill Gang for drunkenly groping the girlfriend of mobster Alex Rocco (then known as Alex 'Bobo' Petricone). Believing George to be dead, the mobsters loaded him into the car to dispose of his body. However, when they realized that he was still alive, they dumped him on a hospital lawn.
When Bernie found out about this he demanded that his then friend Winter Hill leader James "Buddy" McLean turn over his two men. McLean said that George was "out of line" and refused to turn them over. Enraged, the McLaughlins wired a bomb under McLean's family car. When McLean surprised them, they fled, but not before he recognized them. McLean was infuriated and immediately went looking for the McLaughlin's. In October 1961, Buddy McLean, Alex Rocco, and corrupt police officer Russell Nicholson found Bernie in Charlestown's town square and shot him dead. Despite the large crowd, not one witness agreed to violate the Neighborhood Code and the three went free. Soon after, Russ Nicholson was taken from the street and murdered by Bernie's brothers Edward and George.