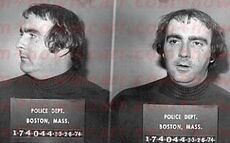 Brian Halloran (died 1982) was an associate of the Winter Hill Gang who later turned informant and was murdered by James J. Bulger.
On the night of May 11, 1982, Bulger was told the whereabouts of Halloran, known on the streets as "Balloonhead". After arriving at the scene, Kevin Weeks staked out Anthony's Pier 4 Restaurant, where Halloran and construction worker Michael Donahue were dining together (an innocent victim not involved in crime). As Donahue and Halloran drove out of the parking lot Weeks signaled Bulger by stating, "The balloon is in the air", over a hand held radio. Bulger drove up with a masked man armed with a silenced Mac 10; Bulger himself carried a .30 caliber carbine. Bulger and the other shooter opened fire and sprayed Halloran and Donahue's car with bullets. Donahue was shot in the head and killed instantly. Halloran lived long enough to identify his attacker as James Flynn, a Winter Hill associate, who was later tried and acquitted. Flynn remained the prime suspect until 1999, when Weeks agreed to cooperate with investigators.
Community content is available under
CC-BY-SA
unless otherwise noted.