Bruce Cutler, (born April 29, 1948), is an American criminal defense lawyer.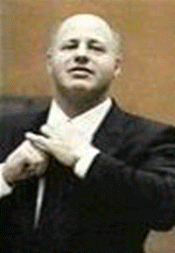 Cutler gained notoriety in the 1980s when he won three acquittals for mobster John Gotti. However, at least one of the jurors, George Pape, accepted a bribe in return for finding Gotti not guilty.
When Gotti, now a crime boss, was indicted in 1990 for the 1985 murder of Paul Castellano, the court disqualified Cutler from representing Gotti, based on the prosecution's allegations that Cutler was "in-house counsel" to the Gambino crime family
Cutler graduated from Hamilton College where he was captain of the football and lacrosse teams, and graduated cum laude from Brooklyn Law School. He worked as an Assistant District Attorney in Kings County, and became its top homicide prosecutor.
Cutler appeared in the Robert DeNiro and Ed Burns film, 15 Minutes, playing a defense attorney named Bruce Cutler. He also has his own TV show, "Jury Duty" on the CW network (www.juryduty.tv) and also had his own show on Court TV, Cutler and Hayes in which he and attorney Ed Hayes discussed criminal cases and current events. Cutler's autobiography was published in 2003.
Cutler had served as the lead defense attorney for Phil Spector until August 27, 2007, when he announced that he was leaving Spector's defense due to "a difference of opinion between Mr. Spector and me on strategy."
Cutler's brother, Rich Cutler, was a federal prosecutor in San Jose, California before joining the law firm Dechert in 2007. Their father, Murray Cutler, was a former New York City Detective who later became a criminal defense attorney. Both Cutler kids grew up in Brooklyn and were good athletes. They spent many summers at Camp Ma-Ho-Ge in Bethel, NY.
Community content is available under
CC-BY-SA
unless otherwise noted.