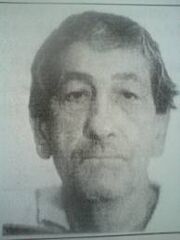 Bruno Facciolo (unknown - August 1990) was an Italian-American mobster in the Lucchese crime family from Bensonhurst, Brooklyn, who worked under Capo Paul Vario. He was the brother of Gambino crime family mob associate Louis Facciolo.
Biography
Facciolo was a made man, or full member, of the Lucchese crime family. Facciola was one of Vario's most trusted hitmen; he was always ready to attack union men on a picket line, collect loans from troubled businessmen, and murder potential witnesses or informants. Facciolo was also involved with rigging the horse racing Superfecta betting system with Lucchese associates Richard M. Perry and Peter Vario.
Facciolo was also involved in the execution of mobster Tommy DeSimone. Bruno and Peter Vario were going to vouch for DeSimone's initiation into the Lucchese crime family. Their job was to escort him to the ceremony. Facciolo informed mob associate Henry Hill that DeSimone was the only associate to be initiated that year under Paul Vario. The first initiation, scheduled shortly after the infamous Lufthansa airline heist at John F. Kennedy Airport, was postponed a day due to a major snowfall. The next day, on January 14th 1979, instead of being initiated into the family, DeSimone was murdered . It is speculated that DeSimone was killed because he had murdered a made man from another crime family without permission. It is unknown if Facciolo helped dispose of Thomas' corpse.
Facciolo was also the proprietor of "Bruno's", a small Brownsville, Brooklyn fine Italian cuisine restaurant, and a skilled gourmet chef (his specialty was his meat sauce).
Death
In August 1990, mobster Louis Daidone executed Bruno Facciolo in Bensonhurst, Brooklyn. Daidone, Eppolito and Caracappa lured Facciolo to a garage, stabbed and shot him to death, then stuffed a dead canary in his mouth as a message to other mobsters that Facciolo "sang like a canary" (was a rat), He was found a few days later in the trunk of a car in Brooklyn. Facciolo was ordered killed because two New York Police Department detectives on Lucchese payroll, Louis Eppolito and Stephen Caracappa, identified him as an informant. Ironically, Facciolo was innocent.
Popular Culture
Bruno Facciolo's niece, Carla Facciolo, stars on VH1's Mob Wives.