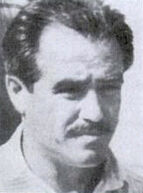 Carmen Barillaro (July 24, 1944-July 23, 1997) was a member of the Buffalo crime family and was active in Ontario, Canada.
Biography
Barillaro was born in Italy and moved to Canada with his family at a young age. In 1978 he had his first conviction for heroin trafficking. In 1980 he was out on parole but was arrested again shortly after for selling heroin to an undercover policeman and was sentenced to another 3 years. Barillaro was also involved in loansharking and bookmaking, mainly in the Niagra Falls area. He became closely affiliated with Ontario gangster John Papalia and became a member of the Magaddino family in Buffalo, New York.
In 1989 Barillaro was sentenced to 3 years for conspiracy to murder a man named Roy Caja. Caja was a member of the Outlaws, a motorcycle gang, and owed him money. He was out about a year later and was arrested again shortly after on charges of dealing drugs, worth up to $2.2 million. He was frequently in and out of jail and was well known in the Canadian underworld. Over the years the Magaddino family had been weakened and lost much of it's old glory. One of Papalia's main rivals, the Musitano family, therefore figured it would be at their advantage to attack the Magaddino faction in Ontario (with possible backings from the Montreal family) and take over their drug affairs. On May 31, 1997, Papalia was killed by a Musitano gunman. Barillaro took over his business affairs, but his term would be short lived.
Death
A couple of months later Barillaro was at home in Niagra Falls, having a conversation on the phone with a friend when someone came knocking at the door. Barillaro put his caller on hold and went to see who it was. Gunshots were heard and Barillaro was found dead shortly after. His killer was revealed to be Ken Murdock, the same trigger man who had shot Papalia. Barillaro had blamed the Musitano's for the Papalia assassination and fearing for his revenge they had him killed as well.
In 2000, both Angelo and Pasquale Musitano pleaded guilty of ordering the Barillaro hit.
Community content is available under
CC-BY-SA
unless otherwise noted.