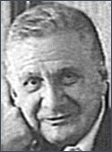 Charles James Caci (born 1936- died January 17, 2006) known as "Bobby Milano", was an Entertainer and producer, a longtime fixture of the Palm Springs area, and was allegedly a soldier in the Los Angeles crime family.
Biography
Born Charles Caci in Buffalo, New York, Bobby Milano's career began when he won the "Ted Mack Amateur Hour" competition at the age of twelve. He made his first record at sixteen, and headed to Los Angeles in 1955 to build his career in the entertainment business. He continued to make occasional records, including a popular single called "Life Begins At Four O'Clock". Later he signed with Capitol Records, but his career was cut short by the advent of rock 'n' roll in the late 50s. He then became embroiled in the Southern California underworld, earning the nickname "The Crooning Crybaby" after an ugly run-in with the law. In 1967, he was sentenced to 10 years in prison for conspiring to hold up an armored car messenger in Beverly Hills and in 1968 for complicity in jewel theft and transportation of stolen goods.
Following his conviction, Milano transcended his sordid past and resumed the straight path. Milano produced a number of records for his wife Keely Smith in the second phase of her career, well after her heyday with first husband Louis Prima. In the 1970s Milano and Smith moved to Palm Springs, California. He was allegedly made a member of the Los Angeles crime family in the 1980s under late boss Peter Milano and was a soldier in the crew of his brother, capo Jimmy Caci and reportedly remained active in the family until his death. He was a talented crooner whose friends included Frank Sinatra, Frankie Avalon and Jerry Vale.
In 2001, He was sentenced to four months of home confinement, after he pleaded guilty to conspiring to sell counterfeit travelers' checks in Las Vegas.
Milano was a frequent fixture at nightclubs all across the Coachella Valley. Milano built up a large, loving cadre of friends, family and business associates. Milano was diagnosed with cancer in November 2005. Despite his advancing illness, he performed at a New Year's Eve party at Tony's Pasta Mia in Palm Springs, hosting longtime friends like Frankie Avalon and Jerry Vale.
He died of liver cancer at Eisenhower Medical Center in Rancho Mirage, California, on January 17, 2006. He was 69 years old.