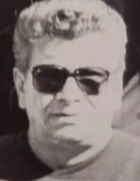 Charles Iannece (Born 1935) also known as "Charlie White", was a hitman and member of the Philadelphia crime family. He was a close friend and associate of Nicholas Caramandi, both of whom carried various "hits" for the Scarfo regime.
Biography
Iannece was described as burly, about 5-foot-10, weighing about 220 pounds, with brown curly hair and blue eyes. He had a tattoo on his right arm that read "Chaz." He first began working for the Philly mob as an enforcer and was later made a soldier in the family.
Iannece was charged in the murder of Salvatore Testa, he allegedly helped dump Sal Testa's body along a road in rural Camden County, according to former mob captain Andrew DelGiorno, who became a federal informant. He was also implicated in the murders of two other individuals and the attempted killing of reputed drug dealer Steven Vento Jr.
According to Nicky "The crow" Caramandi, Iannece was the triggerman in the Pasquale Spirito murder in 1983, who was described as Iannece's best friend.
According to Caramandi, he and Iannece were leaving a wedding reception when they asked Spirito for a ride. They then asked Spirito to pull over at 11th and Mifflin streets in South Philadelphia, where Iannece shot Spirito in the head.
Iannece allegedly specialized in gambling and took over Spirito's business - expanding into loan-sharking and extortion with Caramandi. He became a "made" member of the mob during an induction ceremony presided over by Scarfo in November 1984 in Whitemarsh Township, Montgomery County.
In 1988 Iannece was convicted along with Scarfo and others on racketeering charges and was sentenced to 40 years in prison.
Community content is available under
CC-BY-SA
unless otherwise noted.