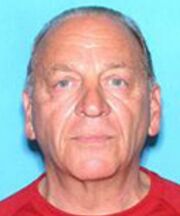 Charles "Beeps" Stango (Born 1943) is a capo in the New Jersey based DeCavalcante crime family. He was arrested for murder in the early 1980s.
In March 2015 he was arrested alongside ten other wiseguys on charges ranging from illegal prostitution, illegal gambling, and plotting to murder a fellow mobster after his crew, which was based out of Toms River, NJ was infiltrated by an undercover FBI agent. Others named in the bust were: alleged DeCavalcante family consigliere Frank Nigro, Charles's son Anthony "Whitey" Stango, John Capozzi, James Heeney, Paul Colella, Mario Galli, Rosario Pali, Nicolas Degidio, and Luigi Oliveri. According to reports Stango wanted to whack a mobster in the Elizabeth, NJ crew of the DeCavalcante family outsourcing the hit to outlaw bikers from Pennslyvania for $50,000.
In a sworn affidavit FBI Special Agent Robert Conrad also alleged that the DeCavalcante family at the time were operating closely with the Gambino crime family. In a transcript of a conversation recorded by the undercover officer, Stango was unhappy that the DeCavalcante family had to answer to the Gambino crime family in New York.
At the time of his arrest Stango had allegedly been running the New Jersey based crew from Henderson, Nevada. He was captured via wiretap having several conversations with his son Anthony talking over plans to open a legitimate club which would function as a front for a prostitution business. Stango also met with an undercover agent which had infiltrated his crew to plot the murder of Luigi Oliveri a member of a rival crew in the New Jersey mob.
In January 2016 his son Anthony was sentenced to six years in prison on various charges after accepting a plea deal on charges of attempting to set up a high end prostitution business and drug distribution. Along with his six-year prison term the judge also tacked on five years of supervision following his release. According to the feds Anthony also sold cocaine on at least seven occasions to an undercover FBI agent and was caught on wiretaps discussing the prostitution business with his father Charles Stango. Another defendant in the case, DeCavalcante family associate John Capozzi was sentenced to 30 months behind bars plus two years of supervised release after being charged with distributing over 500 grams of cocaine after selling a half of kilo of coke to an undercover FBI agent.
In December 2016 Charles Stango agreed to a plea deal which would see him serve 10 years in prison and pay and a $250,000 fine. In exchange for pleading guilty to using a telephone to solicit the murder and a parole violation prosecutors agreed to not pursue other charges including drug charges. He is currently imprisoned at FCI Jesup in Jesup, Georgia and is scheduled for release on 03/21/2024.