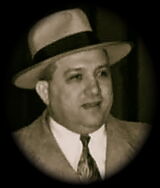 Clyde Smaldone (1906-1998) known as "Flip flop", was a member of the Denver crime family and the oldest of the Smaldone brothers.
Biography
Clyde was born in 1906; his lengthy criminal record began with a burglary charge in 1920. He served 18 months in Leavenworth for bootlegging in 1933. Clyde spent seven years in prison for attempting to blow up rival gambler Leo Barnes in his car in 1936. Men with names like "Fats" and "Murph" were among the victims of unsolved murders.
Paroled in 1949, he confessed to paying protection money for his Central City gambling enterprises. In 1953 Clyde and Eugene Smaldone made headlines after a publicized raid of one of their gambling dens in Brighton, Colorado. Later that year both brothers were found guilty of jury tampering, fined $24,000 each, and sentenced to 60 years in prison. After spending 13 months in jail the brothers received a new trial. Clyde pled guilty to a lesser tampering charge and was sentenced to 12 years and fined $10,000. He was paroled in 1962. In 1967, Clyde and several others, including Eugene's son were arrested on gambling charges and for running a $100,000 a week bookmaking operation.
In 1975, Eugene became the boss of the Denver crime family although by many accounts Clyde Smaldone was the titular head of the operation. His "suggestions" on running the business were much more than that. "What he said went," said one associate. Their younger brother Clarence Smaldone also became a prominent member of the gang.
Clyde died at the Cedars Nursing Home at the age of 91, in January 1998. His son told reporters that despite his father's criminal past, he had a soft side and donated to local orphanages, churches and schools.
Community content is available under
CC-BY-SA
unless otherwise noted.