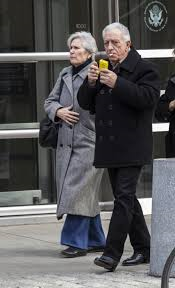 Conrad Ianniello (Born 1943) is a capo in the Genovese Crime Family. He is the nephew of deceased Genovese underboss Matthew Ianniello (Matty the Horse). Ianniello reportedly operates in Manhattan, Brooklyn and Queens.
Criminal Career
Ianniello has a criminal history dates back four decades
In November 1972 he was convicted of felony grand larceny and sentenced to five years' probation.
In October 1986, he was convicted of felony drug possession and misdemeanor weapon possession and sentenced to 100 months to life. Court papers don't say when he was released from prison.
In 2012, Ianniello and other 11 defendants, including seven with ties to the Genovese family, were indicted on charges of racketeering conspiracy, extortion, illegal gambling, union embezzlement and obstruction of justice. This also includes alleged soldiers and union officials Paul Gasparrini Salvester Zarzana and James Bernardone who are charged with extortion on construction sites.
In December 2013, He pleaded guilty to racketeering conspiracy, ordering the president of a union local to back off from organizing workers at a Long Island chocolate factory so another union preferred by the mob could move in. Ianniello was also accused of trying to extort vendors at the annual Feast of San Gennaro in Manhattan. He did not plead guilty to those charges. Ianniello faces up to 20 years in prison when he is sentenced.
On December 12, 2014 Ianniello was sentenced to 3 years in prison.
References
http://www.nydailynews.com/new-york/nyc-crime/judge-rips-mobster-sentencing-bad-america-article-1.2042742
http://www.silive.com/news/index.ssf/2013/12/prosecutors_staten_island_mob.html