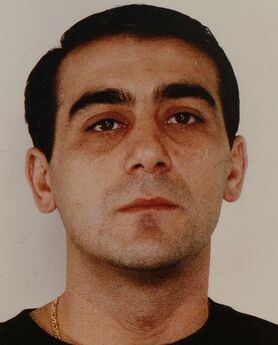 Dino "Big Dino" Calabro (born 1967) is a former capo in the Colombo Crime Family, who would later become a government witness. He was a member of Colombo captain Thomas Gioeli's crew who carried out multiple gangland murders over a decade, along with numerous commercial robberies and bank break-ins.
NYPD Officer Murder
In 1997 former Colombo acting boss, Joel Cacace, ordered Calabro, his cousin Dino Saracino, Joseph Competiello, and capo Thomas Gioeli to murder NYPD officer Ralph Dols. Cacace wanted Dols killed because he had married Cacace's ex-wife. Calabro, Saracino, and Competiello ambushed and gunned down Dols outside of his home. This murder had seemed to break la cosa nostra's rule against murdering police officers, which had been considered taboo up until the Dols murder.
Becoming a Government Witness
In 2008, Calabro was arrested.
After soldier Joseph Competiello became a witness, Calabro cooperated soon after and implicated Joel Cacace as being the one who ordered the hit on Dols. He also testified against his cousin and Gioeli.
Competiello and Calabro testified that they did not know Dols was a cop when they were tasked with gunning him down outside his Brooklyn apartment building. Calabro admitted he shot Dols as he emerged from a car outside and identified his cousin, Dino "Little Dino" Saracino, as the second gunman.
Despite the testimony they provided, Cacace, Gioeli and Saracino were acquitted of the young cop's slaying.
People killed by Calabro
1). William Cutolo/ Colombo Underboss/ It was rumored that he would become a government informant and turn them in for the Dols homicide
2). Ralph Dols/ NYPD officer/ Dols was killed because he had married the ex wife of former acting boss Joel Cacace.
Community content is available under
CC-BY-SA
unless otherwise noted.