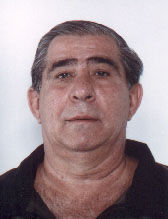 Dominic "Crazy Dom" Truscello (born April 29, 1934 - July 26th 2018) was a New York mobster in the Lucchese crime family, and longtime captain.
Dominic Truscello was born in 1934 and joined the Lucchese crime family in the late 1950's/early 1960's. He was a soldier for years until the late 1980's when he became the capo of the "Prince Street Crew". In the 1990s, Truscello along with Steven Crea and Joseph Tangorra formed the "Lucchese Construction Group", supervising all the Lucchese family's construction related rackets.
On September 6, 2000, Truscello, was indicted along with acting boss Steven Crea, capo Joseph Tangorra, soldiers Joseph Datello, Philip DeSimone, Arthur Zambardi, Anthony Pezzullo, and Joseph Truncale on labor racketeering, extortion, and bid-rigging charges. In September 2002, Truscello and Steven Crea were indicted on information supplied by Joseph DeFede, who became a government witness in February. The indicted charged Truscello with extorting "Commercial Brick" a construction company. In October 2003, Truscello pleaded guilty to federal extortion charges. On January 9, 2006, Truscello was released from prison.
In May 2017, Truscello was among 19 individuals charged by the government with an array of crimes including murder, attempted murder, racketeering, gambling, witness tampering and narcotics trafficking. Others charged included Steven Crea, Matthew Madonna and Joseph DiNapoli, who at the time of their arrest had constituted the entire administration of the Lucchese crime family.
Truscello passed away on July 26, 2018.