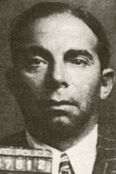 Dominick "The Gap" Petrilli (died 1953), also written "Petrelli" and "Petrilli", was an associate of the Genovese and Lucchese crime family's. He got the nickname "The Gap" after losing two front teeth in a childhood fight. Petrilli met Joseph Valachi in Sing Sing prison in Ossining, New York.
In 1928, after Valachi was released from prison Petrilli introduced him to Girolamo "Bobby Doyle" Santucci and Gaetano Gagliano, boss of what became known as the Lucchese crime family. In 1942, Petrilli was convicted on narcotics charges and was deported to Italy.
In November 1953, he reentered the U.S. and it was rumored he was working with the government. On December 9, 1953 he was murdered in a bar on East 183rd Street in the Bronx by three gunmen.