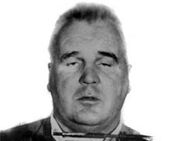 Edward "Punchy" McLaughlin (May 16, 1917- October 20, 1965) was an Irish-American mobster and member of the Charlestown Mob, led by his brother Bernard McLaughlin.
Biography
McLaughlin was a former boxer and a member of the "The McLaughlin Brothers" gang of Charlestown, Massachusetts. In his book, "My Life in the Mafia", Vincent Teresa, described Edward as, "Punchy was just as crazy as George...a legbreaker for the longshoreman's union. Punchy was a cuckoo and as hotheaded as they came". McLaughlin was a suspect in the 1957 murder of a fellow ex-boxer, Tommy Sullivan, who allegedly tore McLaughlin's upper left ear off during a barroom brawl. Punchy McLaughlin's legitimate occupations over the years included work as a seaman, a union delegate, laborer, longshoreman and as a union organizer. The McLaughlin brothers had been known to also perform hits for gangs all over New England, including the Winter Hill Gang and the Patriarca crime family, but later became entrenched in a gangland struggle for control of mob rackets against both organizations.
After his brother Bernard McLaughlin was murdered in October 1961 by their former friend, Winter Hill Gang leader James "Buddy" McLean, Punchy and brother George McLaughlin murdered Russell Nicholson who was rumored to be McLean's driver in the shooting. The Charlestown Mob also had to be wary of attacks by the Italian Mafia led by Raymond Patriarca, who reportedly ordered his men to kill off the McLaughlin gangs leadership after they began the muscle in on the Mafia's loansharking rackets and other activities. After surviving many assassination attempts, one where he lost his right hand and another where he lost half his jaw, Punchy was on his way to John Joseph Moakley United States Courthouse for his brother George's murder trial when he was shot dead at the Spring Street Metropolitan Transit Authority Loop in West Roxbury, Massachusetts.
Community content is available under
CC-BY-SA
unless otherwise noted.