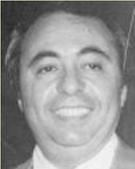 Edward "Eddie The Conductor" Sciandra (born November 13, 1912- died July 13, 2003) was a high ranking member and Acting boss of the Bufalino crime family of Pittston, Pennsylvania.
Biography
Sciandra was born in Montedoro, Sicily on November 13, 1912 and immigrated to the US.
Eddie was known to be an old-school mobster, especially when it came to business. He moved to Jamaica, Queens in the 1950s or 1960s. From there he moved to Pennsylvania where he joined the crime family of his cousin, crime boss Russell Bufalino.
He began working with the Bufalino's sometime in the late 1960's and became a made man. When Russell Bufalino went to prison in the 1970s and 80s, Sciandra was selected to be his Acting boss, a position he held from approximately 1975 until 1989. Sciandra was also imprisoned from 1981-1982. Sciandra began to gain power in the 1980s when he embezzled from a record company and expanded his personal rackets into NYC. During his time as Acting boss he expanded the family's operations into Florida.
When Bufalino died in 1994, William D'Elia took over the crime family, it is believed that by this time Sciandra was already retired.
Sciandra died on July 13, 2003 in Hallandale, Florida.