Ellsworth Raymond "Bumpy" Johnson (October 31, 1905 - July 7, 1968) was an American gangster in New York City's Harlem neighborhood in the early 20th century.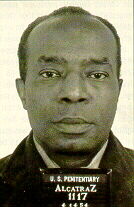 Early life
Johnson was born in Charleston, South Carolina on October 31, 1905. Johnson derived his nickname "Bumpy" from a bump on the back of his head. When he was 10, his older brother, Willie, was accused of killing a white man. Afraid of a possible lynch mob, his parents mortgaged their tiny home to raise money to send Willie up north to live with relatives. As Johnson grew older, his parents worried about his short temper and insolence toward whites and in 1919 he was sent to live with his older sister Mabel in Harlem.
Criminal career
Johnson was an associate of numbers queen Madame Stephanie St. Clair.
By the summer of 1952, Johnson's activities were being reported in the celebrity people section of Jet, an American weekly aimed at African American readers, founded in 1951 by John H. Johnson of Johnson Publishing Company in Chicago, Illinois. That same year, Johnson was indicted in New York for conspiracy to sell heroin and was sentenced to fifteen years in prison. Two years later, Jet reported in its crime section that Johnson began his sentence after losing an appeal. He served the majority of his prison time at Alcatraz Prison in San Francisco Bay, California as inmate No. 1117. Johnson was arrested more than 40 times and eventually served three prison terms for narcotics-related charges. In December 1965, Johnson staged a sit-down strike in a police station, refusing to leave, as a protest against their continued surveillance. He was charged with "refusal to leave a police station" but was acquitted by a judge.
Death
Johnson was under a federal indictment for drug conspiracy when he died of congestive heart failure on July 7, 1968, at the age of 62. He was at Wells Restaurant in Harlem shortly before 2 a.m., and the waitress had just served him coffee, a chicken leg, and hominy grits, when he keeled over clutching his chest.[2] Childhood friend Finley Hoskins was there, and someone ran down the street to the Rhythm Club to get another childhood friend, Junie Byrd. When Byrd arrived, he cradled Bumpy in his arms, and Johnson briefly opened his eyes and smiled, then fell into unconsciousness. He was taken, by ambulance, to Harlem Hospital where he was pronounced dead. He is buried in Woodlawn Cemetery in The Bronx, New York City.
Community content is available under
CC-BY-SA
unless otherwise noted.