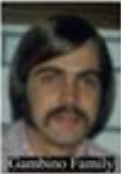 Emmanuel 'Manny' Gambino (May 31, 1943 - May, 1972) was the nephew of infamous mafia leader Carlo Gambino and an organized crime figure in New York.
Biography
He was kidnapped from outside of ex-mobster Henry Hill's supper club The Suite in Queens, New York, by a group of gangsters. He was the second kidnapping victim, the first being "Frankie the Wop" Frank Manzo, who was kidnapped a few months earlier.
James McBratney lead the gang from Manhattan's West Side. After trying to lower the ransom, the Gambino family, to their horror, found after months of negotiations that Manny had been killed. He was found dead in January 1973.
James McBratney was ordered to die slowly and painfully, in a manner befitting his crime against Carlo Gambino. By spring of 1973, the order to find a useful hit squad had been passed down the ranks of Gambino's gang, and a pròtege named John Gotti, along with Ralph 'Ralphie Wigs' Galione and Angelo Ruggiero, were given the task of hunting down and murdering McBratney.
On May 22, 1973, the trio found McBratney drinking at a Staten Island tavern. They had been ordered to kidnap him so as a slow and torturous end could come about for him. The hitmen had acquired several phony police badges and walked in, under false pretenses, and asked for McBratney to come with them. He wasn't fooled by the trick, so the gang pointed a gun at the other patrons and ordered them to co-operate with them as they abducted McBratney. One patron didn't comply, and, as Galione pushed the patron, the gun accidentally fired. In a panic, Galione shot McBratney three times and left.