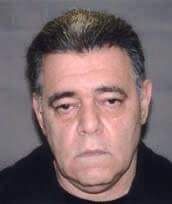 Ernest "Ernie" Muscarella (born 1944) is a powerful New York mobster and the current Underboss of the Genovese crime family. He started as a soldier in the crew of infamous Mob boss, Anthony "Fat Tony" Salerno, operating with extortion, bookmaking and illegal gambling in the early 1980s. As pressure on organized crime began to increase, Salerno and all the other heads of the New York crime families were put on trial for labor racketeering, loansharking, extortion, illegal gambling, drug trafficking, money laundering, murder and conspiracy to commit murder, which resulted in the infamous Mafia Commission Trial. Muscarella, a young and strong member of the Genovese crime family, inherited Salerno's legendary crew located in the East Harlem and Upper Manhattan factions of the family. In 1986, Salerno and others received life imprisonment, and Muscarella received the position as Caporegime of the family's Manhattan faction.

As the 1980s roared against the Genovese crime family, with massive indictments and prosecutions, Muscarella reportedly went under the radar for more than 10 years, while operating out of the East Harlem and upper Manhattan factions with labor and construction racketeering, extortion, loansharking, illegal gambling, bid rigging and fraud activities. While other top Genovese mobsters were sent to prison during the late 1980s, Muscarella went on to become one of the top earners in the family, working mostly with recognized Underboss Venero "Benny Eggs" Mangano of the Brooklyn faction, and top capos Liborio "Barney" Bellomo and Charles "Charlie" Tuzzo with stocks and pump-and-dump schemes. This made Muscarella one of the top members of the Genovese crime family during the early 1990s, and he was soon recognized as a top loyalist to then-current boss, Vincent "Chin" Gigante.

As the mid and late 1990s proved to be very lucrative for Muscarella, his boss, Vincent "Chin" Gigante, suffered, as he was indicted and convicted on extortion, several racketeering and conspiracy charges and sentenced to 12 years in a federal prison in the summer of 1997. Despite his lawyers' and psychiatrists' claims that he had been legally insane for more than 30 years, the jury convicted him on all but the murder charges, which would have mandated a life sentence without parole. As luck would have it, longtime "capo" and alleged Street Boss Liborio Bellomo was convicted of conspiracy to commit murder. Longtime member of the Genovese crime family, Dominick "Quiet Dom" Cirillo was set to step up as Gigante's Acting Boss, but suffered a heart attack and was forced to step down. This prompted Gigante to promote Muscarella as the Acting Boss in late 1998.

In 2002, Muscarella found himself facing two serious indictments. The first was for heading up a stock fraud racket involving "Orex Gold Mines Corp". The second indictment occurred later that year when US law enforcement charged Muscarella of extorting the International Longshoremen Union through his influence over piers located in Florida, New Jersey and New York. Additional charges against the defendants also brought in evidence of extorting the International Laborers Union of North America, Teamsters Local 32B/J of the Building Services Workers Union and the Mason Tenders District Council of Greater New York. In addition to this, US law enforcement tied Muscarella to large illegal gambling operations in South Florida and Brooklyn, New York. Plea agreements were eventually echoed by all defendents and Muscarella was sentenced to five years in prison in late 2002. He was released on December 31, 2007.