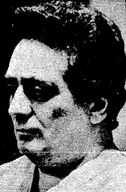 Eugene J. Ciasullo (born 1931-August 6 2016) known as "The Animal", was a notorious associate and enforcer of the Cleveland crime family.
Biography
Ciasullo was born in East Cleveland, Ohio to first generation emigrants from Ciaculli, Palermo, Italy. Although Ciasullo stood at only 5'8", he was burly, muscular and mean and played on the Shaw High School football team. Eugene had a natural ferocity with intimidating shark-like eyes. He was trained as a lathe worker and plasterer like his uncles, but decided to pursue a career in organized crime instead. He first started committing burglaries with close friend and Cleveland family soldier Butchie Cisternino, the gang they led would become known as the "Young Turks" and also included future Cleveland boss Joseph Iacobacci. The two became involved in loansharking, loaning out money for 5% weekly. Eugene was notorious among law enforcement and organized crime circles for his hair-trigger temper. He was known to keep an old lathing hatchet underneath the driver's seat of his car. He was involved in many violent fights with his girlfriend, friends including motorists to whom he displayed great fits of road rage on many different occasions. Ciasullo once used a cue-ball to inflict numerous skull fractures to one unlucky victim in a barroom brawl, earning him the nickname "The Animal".
When the mob war with Danny Greene began it was open season on any and all Cleveland racketeers, including Ciasullo. On July 22, 1976 as Eugene was walking up the steps to his front porch a bomb hidden in a flowerpot exploded. He survived after a long hospitalization. But after this decided to move to Florida to avoid being killed. On September 26, of the same year, another bomb exploded at Ciasullo's home ripping off the garage door although Ciasullo and his family had moved to Florida earlier that month. Greene would finally be killed on October 6, 1977, effectively ending the gang war.
In 1981, Ciasullo was convicted of assault and of narcotics charges. He was released on probation by the mid -to-late 1980s. Ciasullo would make the best decision of them all when he retired from organized crime and began to live a crime-free life in Pennsylvania. The death of Danny Greene resulted in the almost total decimation of the Cleveland crime family ending with most of its top members either dead or in prison by the mid 1980s. Ciasullo died on August 6th, 2016 at the age of 85.
Community content is available under
CC-BY-SA
unless otherwise noted.