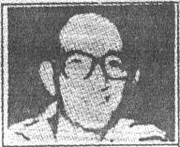 Eugene "Checkers" Smaldone (born 1910- died 1992) was the boss of the Denver crime family of Colorado.
Biography
His father Ralph was a grocer, bondsman and small-time bootlegger in North Denver.
After the death of Joseph Spinuzzi in 1975, Eugene was recognized as Northern Colorado's leading crime figure and described as the patriarch of the Denver crime family. He and his brother Clyde were in control of a gang that dominated the northern Colorado rackets, operating mainly in illegal gambling. Eugene and Clyde Smaldone, who ran together in a life of crime since their teen years, were very close. At times, it was hard to tell which of them was running the operation. Smaller in stature than Chauncey, the two were accused through years of various acts of violence. The principal enforcer for the Smaldone gang was Frank "Blackie" Mazza, who was a slot-machine man.
Eugene, whose nickname, "Checkers," came from his love of the board game, ran booze during Prohibition for their dad to speakeasies in Lower Downtown and in the Bottoms, the area along the South Platte River
Although suspected of taking part in, or being behind, several killings, Eugene was never indicted for murder. Eugene's arrest record showed entries for auto theft, bootlegging and income tax evasion. A local law official described Eugene as "the schoolteacher type. He wore glasses. Very polite. Very civil." His final prison sentence was in 1983. The charges were for operating a loan shark business out of Gaetano's. Eugene along with brother Clarence Smaldone, and a nephew, Paul Clyde "Fat Paulie" Villano, pled guilty to the charges which also included illegal gun possession.
Eugene Smaldone died in March 1992 of a heart attack at the age of 81. After Eugene's funeral, a relative wrote to the Denver newspapers complaining of the pain the media had caused the family and pleaded to be left alone.