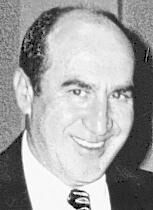 Francesco "Frank" Guarraci (1955 - April 14, 2016), was a Sicilian-American mobster and reputed acting boss of the DeCavalcante crime family.
Early inducted member
Francesco Guarraci was born in Ribera, Sicily in 1955, to where the DeCavalcante crime family's origins can be traced. During the 1980s, he emigrated to the United States, and in 1989, Guarraci was inducted into the crime family during a ceremony led by John Riggi himself, according to Vincent Palermo, who turn state's evidence in 2000. However, Guarraci wasn't recognized as an inducted member by US law enforcement until years later.
DeCavalcante captain
Guarraci was listed as a soldier for the DeCavalcante crime family throughout late the 1990s and early 2000s, as the family was broken down by federal law enforcement and internal rivalry, as well as the longtime acting boss, Vincent Palermo who turned state's evidence in 2000. At some point between 2005 and 2006, Guarraci was promoted in the family, as he was listed as a Caporegime by New Jersey law enforcement in the beginning of 2006. Guarraci's official job is as a foreman in Laborers' Local 394.
Riggi's acting boss
In early 2007, it was confirmed that after the convictions of Consigliere Stefano Vitabile and Girolamo Palermo from 2003 to 2006, Guarraci was promoted to "acting boss" along with Underboss, Joseph "Joe" Miranda, to run the day-to-day activities of the DeCavalcante crime family on behalf of the imprisoned Riggi. As of May, 2009, Francesco Guarraci is still in charge of the family, along with Miranda, on the orders of the imprisoned boss Giovanni Riggi. The Ribera Social Club, where family members hang out, has been run by Gaurraci since 1989. The prospects for a strong organization exist due to the induction of 12 new members by Joseph Miranda.
Death
Guarraci passed away at home on April 14, 2016, aged 61, surrounded by his loving family.