Francis "BF" Guerra (Born 1966) is a longtime associate in the Colombo Crime Family.
Background
Guerra is a Brooklyn-based mobster. He is close pals of former Colombo acting boss Alphonse Persico and Colombo capo Theodore Persico Jr. His nickname is a short form of his old 1980s moniker, "Big Frank."
Criminal Career
On March 26, 1990 Guerra and Alphonse Persico, who was in prison at the time, were both allegedly involved in the plot to kill federal informant Vincent Lafaro (Scoobie), who was killed in a drive-by shooting in front of his Bensonhurst, Brooklyn home.
In 1992, Guerra was allegedly involved in the hit of bartender Michael Devine. Devine was killed because he had been having an affair with Alphonse Persico's wife. Devine was also shot in the groin, as a sign that he had been fooling around with a mobster's woman.
In 1993, Guerra was allegedly part of the hit team that killed Colombo underboss Joseph Scopo. The murder of Scopo was key to Guerra and his co-conspirators winning the war and the Persico faction maintaining control of the Colombo family. Other members of the hit team included capo Anthony "Big Anthony" Russo and associate John Pappa.
In 1998, according to FBI documents, Guerra set the murder of mob associate Frank Hydell in motion when he told Alphonse Persico, the family's acting boss at the time, that Gambino associate Hydell was an FBI informer. Persico informed members of the Gambino family who later killed Hydell in front of a Staten Island strip club in April of 1998.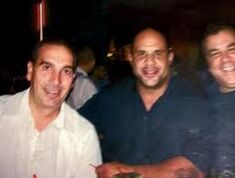 In January 2000, Guerra was arrested on drug- related charges and was eventually released in 2007. Had Guerra not been indicted, it was highly likely that he would have been inducted during the 2000 Colombo family induction ceremony,
Arrest, Trial, Acquittal, & Conviction
In 2011, Guerra was among the 127 mobsters arrested by the FBI. Guerra was brought to trial for his numerous crimes that he had committed over his criminal career, including the murders of bartender Michael Devine and Colombo capo Joseph Scopo and for extorting a pizzeria.
At trial, Guerra was accused of extortion after demanding payment from a rival pizzeria that he said had stolen a recipe from popular L&B in Brooklyn. Mob rat Anthony "Big Anthony" Russo told a jury in Brooklyn that Guerra became angry after learning that a member of the Bonanno crime family had taken one of his recipes.
Russo also claimed that Colombo capo Theodore Persico Jr., while at his grandmother's funeral, passed the order to kill Joseph Scopo to him and Guerra. At trial Guerra claimed that he was home playing the board game clue at the time Scopo was murdered.
In July 2012, Guerra was acquitted of the murder Joseph Scopo and Michael Devine, but he was convicted of drug trafficking and wire fraud charges.
In September 23, 2013 Guerra was sentenced to 14 years in prison for selling the prescription drug Oxycontin after an investigation back in 2010-2011
People killed by Francis Guerra
1). Vincent "Scoobie" Lafaro/ 1990/ federal informant/ When it was discovered that Lafaro was an informant he was killed.
2). Michael Devine/ Bar tender/ 1992/ Alphonse Persico ordered Devine's death because he had a relationship with Alphonse Persico's wife.
3). Joseph Scopo/1993/ Orena underboss/ Scopo was a part of the Orena faction that was attempting to take control of the mafia family from the Persicos.
4). Frank Hydell/1998/ Gambino associate/ Hydell was killed because it was believed that he was an informant.
References
http://www.huffingtonpost.com/jerry-capeci/turncoat-capo-fingers-per_b_822694.html
http://www.dailymail.co.uk/news/article-2159119/New-York-mafia-families-come-blows-pizza-sauce-recipe-Colombos-say-stolen-Bonannos.html
http://aboutthemafia.com/tag/francis-bf-guerra
http://bitterqueen.typepad.com/friends_of_ours/francis-guerra/
Community content is available under
CC-BY-SA
unless otherwise noted.